Patient Comments
The following quotes are from letters, cards, and e-mails that our patients have sent us over the years. Some were addressed to the clinic as a whole and some were addressed to individual staff members, but they all mean the world to us. We hope that reading these words bring you comfort and reassurance.
"I wanted to take the time to thank you all for the care and support I received at your facility. I was treated with empathy and respect during one of the most difficult times in my life. I can't express how much it means that there are people who understand."

"Thank you for listening without judging, for seeing me as a person, for offering me so much understanding and compassion. When I entered your office I felt ashamed, confused, afraid, and vulnerable, but you treated me with such warmth and respect. This whole experience has been very difficult for me, but you have really helped me feel good about myself and my decision. You have made me feel held and carried through this experience. You have given me the reassurance and hope that I am still a good woman. Thank you for the difference you made in my life.

"I appreciate the wonderful care I received. Everyone I saw was friendly, patient, and professional. You all made a potentially harrowing experience as pleasant and easy as possible. I'm very grateful. I sincerely hope I never need another abortion, but it's good to know that you're there, just in case."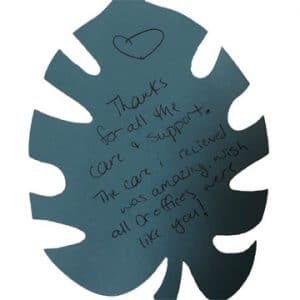 "It's been 4 years since I sought your services because of an unwanted pregnancy. It was around Easter time when I traveled to your center as an overwhelmingly frightened young woman. The phenomenal amount of compassion and empathy provided by all of the staff was perhaps the most beautiful act of humanity I've ever witnessed. I've never forgotten how wonderfully comforting you all were. As a matter of fact, I think of it daily, and because of the options you provide women with, I've been able to complete my master's degree. Forever thankful and God bless."

"I just want to thank you all for being so caring and attending to my special needs. You all took such good care of me and made me feel so much better about the surgery. A special thanks to [staff member] who called the next day to check up on me. All of the nurses, the doctor, the anesthesiologist – everyone was so attentive."


"I could have never imagined a staff more caring and thoughtful as yours, during a very unpleasant time in my life. The absolute comfort and kindness from the staff made a nightmarish situation more than tolerable for me. Thank you for your help."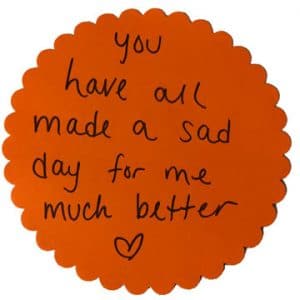 "I would like to thank all of you for the care I received during my recent visit to your center. Whether I only spoke to you on the phone, or spent just a few minutes with you, you kindness will never be forgotten. I was treated with dignity and professionalism by everyone. You helped to ease my fears and make me feel comfortable. I was able to leave there feeling like a respected person who was never judged in any way. Your support and understanding helped me through this most difficult time more than you will ever know. My sincere thanks and appreciation to each and every one of you. Please remember how important you all are. Thanks for being there for me."

"I want to take this opportunity to thank you for helping through a time when even my closest friends could not. I have never met more caring and understanding people in my life. The counselor that I spoke with was a sweetheart. The nurses were some of the best around – they have the patience of saints. The anesthetist was a model also. You all saw what a rough time I was having and went out of your way to care."

"We just wanted to thank all of you at the Allentown Women's Center for helping to make a hard situation a lot easier. Everyone at the center was extremely nice and made us feel really comfortable with our decision. Please give a special thanks to [staff member]. She came in with me during the procedure and helped me a lot through our visits. Thanks again for everything."

"From the very first phone call, I felt safe. I didn't know where to turn and explained that I really didn't have anyone to talk to since my mom died. The girl on the phone said, "Well you do now because you called us." That was very reassuring. All the counselors were very kind and no one pressured me in any way."