Abortion
One in four women* will have an abortion during their lifetime.
You are not alone in your decision to terminate your pregnancy. We understand, and we're here to help with compassionate abortion care.
*Transmasculine and non-binary people can also become pregnant; however, reliable statistics on abortion for these populations are unavailable at this time.
Our Services:
Surgical Abortion (5-23 weeks of pregnancy)
IV Sedation (deep or moderate); Conscious Sedation; or Awake with Local Anesthesia
Single visit appointments
Abortion Pill (up to 10 weeks of pregnancy)
Minors are able to obtain care with parent/legal guardian consent.
If consent is not available, we can assist you in obtaining a Judicial Bypass.
Trauma Informed
We understand, and recognize, the effects of different types of trauma.
If you or someone you know has experienced sexual abuse or violence, having a gynecological exam or pregnancy termination may be difficult. Our goal is to provide you with a safe, affirming space where you help us plan the best approach for your visit.
When making your appointment, please feel free to let us know what your needs are for your visit (i.e. preferred positions, safe words, avoiding trigger words, clothing). If it is too difficult to discuss this over the phone, we are happy to identify and accommodate your needs once you are here.
By appointment — includes a complimentary pregnancy test. Our patient advocates are trained and experienced in talking about abortions, adoption, and parenthood without pressure or judgment.
They are available to help you find the solution that is best for you and your life right now. Call any time during our office hours and a staff member will assist you.
low, inclusive fees
financial assistance for qualifying patients
some insurance plans cover abortions
There have been an increase of Crisis Pregnancy Centers (CPCs) #FakeClinics opening up next door to #RealClinics and advertising online under "abortion clinic" searches. Fake clinics do not offer abortions. Learn more about fake clinics. We have the #REALCLINICS badge because Allentown Women's Center is a REAL abortion clinic offering the abortion pill and surgical abortion.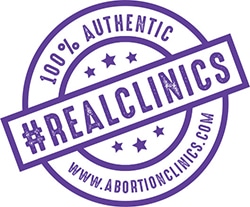 One in four people will terminate a pregnancy during their lifetime. You are not alone in your decision to have an abortion. We understand and we're here to help with compassionate abortion care.